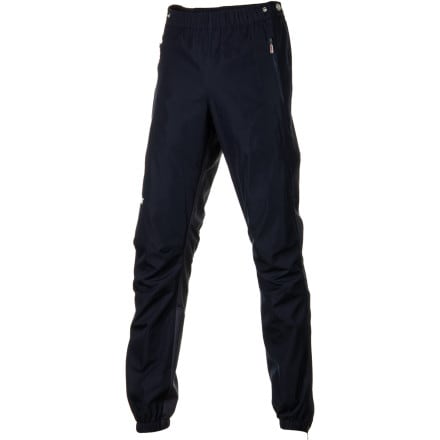 I picked up a couple of pairs of these Swix Universal Pants the other day from The Alpineer and so far I've worn them around town and the house. The Swix literature on them is pretty … translated. Sentiment like "This product was developed for normally cold winter days" appear all over most of the literature that comes with the pants. Here in Colorado we can see 35 degree fluctuations in temperature during the course of a day. There is no "normal" folks. But, there are plenty of other folks who turned me on to these pants in the first place, starting with Backcountry.
Swix's Universal Pants have that whole breathable, but still wind-and water-resistant thing down pat.
Looking for pants that'll keep your legs warm during chilly morning runs and afternoon cross country treks? Grab the Swix Men's Universal Pants. These pants' medium fit won't cut off your circulation, but it won't leave tons of fabric flapping in the breeze either. Knitted elastic back panels add to the Universal Pants' breathability, while wind- and water-resistant fabric elsewhere stands up to light flurries and harsh gusts. Swix gave the Universals articulated knees so you have plenty of room to move, and a full-length zipper for quick on-and-off action.
And they are. I started with a pair of medium and a pair of large since they both fit me in the waist. This gives me the option of wearing them strait up or with a wool under layer. So far I've done each of these once.
During a chilly CB morning (about 10F) I wore them with under layer and was very comfortable. Knees and buttocks got chilly in the wind or if I stopped too long, but otherwise I was comfortable. They don't flap around in the wind which is super nice and they don't seem to "shooop shooop" when I walk or run which I am thankful for. Additionally, snow and ice don't stick.
I'm currently wearing my larges around the house to clean and later to do some plyo. They are comfortable and form fitting, better than a sweat suit for certain.